Facilities
Arden Hearth is well suited to small groups who want to interact in an elegant yet intimate setting. The historic architecture reflects the finest taste of the late Victorian era, with beautifully restored woodwork, high ceilings, tall windows, and tiled fireplaces throughout the house. The entry hall, three unique meeting rooms, and a grand dining room are all available for rental and can be combined in various ways to meet the needs of your group. Outdoor events can also be arranged in our beautifully landscaped yard, which includes a meditation labyrinth. Catering and other amenities may be arranged in advance.
Rooms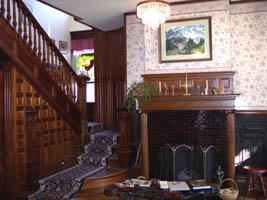 Entrance Hall
The Entrance Hall greets guests with a striking fireplace, an inviting bay window with windowseats, original parquet floor, and a sweeping stairway. All meeting rooms open off this elegant entry hall, which can be arranged with additional casual seating, registration or information table, or a display related to the event.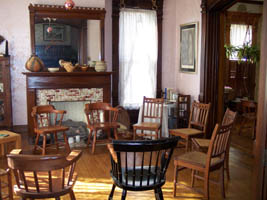 Front Parlor
The Front Parlor is a graceful, formal space for up to 20 people. Beautiful natural light pours through tall windows by day, while chandelier and lamps create a warm glow in the evening. We provide seasonal decoration for the lovely wooden mantel, or you can use it for your own display. This parlor has lustrous dark woodwork with two sets of pocket doors so that it can open onto other rooms or be closed off. Chairs may be arranged lecture style or in a smaller circle for discussion. Opening the wide pocket doors between front and back parlors enables you to seat up to 30 people.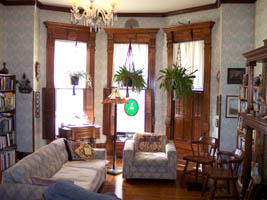 Back Parlor
The Back Parlor is a more informal space that can accommodate up to 20 guests in a lecture format, or a dozen in a casual, family-style gathering. It can also be used as a breakout room for small groups. Soothing greens and warm oak woodwork give it a relaxing atmosphere. Large bay windows provide perfect natural light by day, or can be shuttered for an evening slide show. Pocket doors enable it to open onto or close off adjoining rooms. A display mantel over the fireplace makes a nice backdrop for speakers.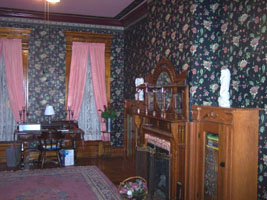 Study
The Study is an informal meeting space for gathering a small group around a table or providing buffet-style refreshments. Royal blue wallpaper, an oriental carpet, and a fireplace give the room the feel of a cozy library — an ideal breakout room for a small work group of up to 10. The downstairs bath is off the study.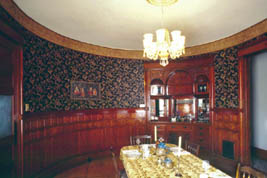 Dining Room
The Oval Dining Room is stunning with teal and gold wallpaper, cherry woodwork, curved windows, and a curved built-in sideboard of handcarved cherry. The formal table seats up to 16 guests, although additional seating can be arranged with a side table. A butlerís door enables easy entrance from the kitchen for catering staff.
Grounds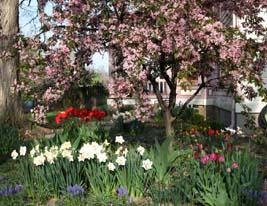 Gardens
The grounds are beautifully landscaped with flowers that bloom throughout the year.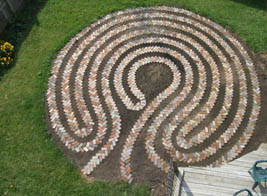 Labyrinth
A baltic wheel style labyrinth is available for walking meditation behind the house.
Catering
We can arrange for catered breakfast, lunch, tea, or dinner for your event. Other options include continental breakfast (pastries/muffins and coffee/tea), cheese and fruit or veggie tray, and water or iced tea. Groups are also welcome to bring their own boxed lunches. (Note: For catered meals, we will work out use of the kitchen with the caterer; otherwise, kitchen facilities are not available to guests.)
Amenities
Flip chart with markers
Screen and projector
Internet access
We encourage you to visit before your event to envision the possibilities for your groupís needs. If you anticipate guests from out of town, we are happy to work with you to arrange overnight accommodations at nearby Bed & Breakfasts.
copyright © 2009 Dan and Jan Sims